On a buying trip to Selby last October, we collected the goods we'd pre arranged and at the same time, noticed a huge steamer trunk in the corner. It was standing on its end and not as imposing as it would have been if it was laid flat on the floor. It was completely out of my comfort zone, but just one of those items that I had to buy.It came home with us, was cleaned and waxed to as close to its former glory as it could possibly be and was offered for sale online. It sold within a week. And so began our love affair with the steamer trunk.
What is a "True" Steamer Trunk?
Steamer trunks were at their most popular between 1870 and 1925 as the people took to travelling the world by ship. In the US, as the railways took hold, travel trunks of all types gained popularity too.As with today's modern jet travel, our ancestors also faced restrictions on the size of their luggage. A true steamer trunk – one that was "On Voyage" ie taken in to the cabin -would have been low profile and within the dimensions of the shipping companies, which I believe was 14 inches high, 2 feet wide and 3 foot 8 inches (35 x 61 x 112cm).
Anything bigger than those dimensions was still a travel trunk and no doubt has it's own character, but it's not a steamer trunk.
Steamer & travel trunks were produced with a pine box base (doesn't swell or shrink and is lightweight) and and covered with different materials for decoration and the wooden bands added as protection.Some had a flat top with an eye to practicality, as they could be stacked and secured easily.
Trunk manufacturers produced a range of travel trunks from lower end items to higher priced & roomier dome tops. This is where the wide variation in trunk sizes and styles comes from, in a similar way that car manufacturers have a range of cars. The style of trunk one chose depended on budget, but from a size point of view, an On Voyage steamer trunk needed to bit the dimensions above. Most of the trunks we have sold have had a monitor top – a flat top with rounded edges front and back.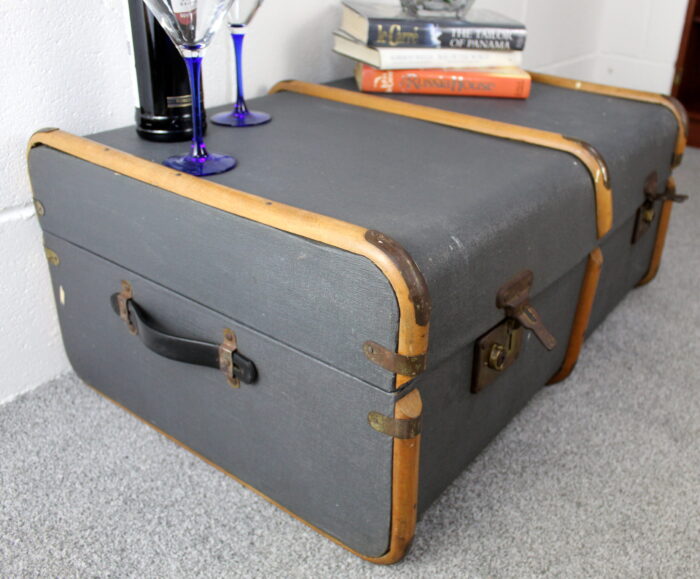 A good example of a Monitor Top Steamer Trunk – It fits within the On Voyage dimensions and has a flat top with rounded edges.
Modern Usage for a Steamer Trunk.
Steamer trunks fit well in most decors and spaces – Contemporary houses can carry them off as an accent piece because they are not dominating or imposing in the way that some Victorian / Edwardian heavy mahogany pieces of furniture can be; they also provide just the right mix of vintage & modern.
Most present day homes are not known for their generous room sizes. As we now know, a true streamer trunk cannot be bigger than 35 x 61 x 112cm, so they are perfect for smaller spaces. Many home use them as coffee tables, toy storage boxes or they simply look fabulous with a few decorative items on. Larger dome top travel trunks look more imposing and can be the perfect piece for storing sheets, blankets, throws and pillow etc. When placed at the end of a bed they can add a little more character to a bedroom that plainer blanket boxes.

Since that first steamer trunk came our way last year we have sourced quite a few and the character of the item has always been the dominant feature. Apart from the luggage labels and stickers that document its voyages, the bumps and scrapes – if only they could talk -would speak of a rich history and have a tale or two to tell.